Freedom First St. Patrick's Day Parade and Shamrock Festival
Freedom First St. Patrick's Day Parade – 11:00am on March 11, 2023
The St. Patrick's Day Parade is rain or shine on Saturday, March 11th.
Parade Route: Begins on Jefferson Street at Elm Avenue, continues to Campbell Avenue and ends at Williamson Road. For more information about the Freedom First St. Patrick's Day Parade and Shamrock Festivities click here.
To view a map of road closures click here.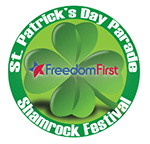 News During the week of August 28 – September 1, contractors will be conducting overnight structural preventative maintenance in the Center in the Square Garage.
Read More »